In order to create a new podcast episode using the Libsyn Publisher Hub, log into your Wordpress administration dashboard and begin by creating a new post.
Create a Wordpress Post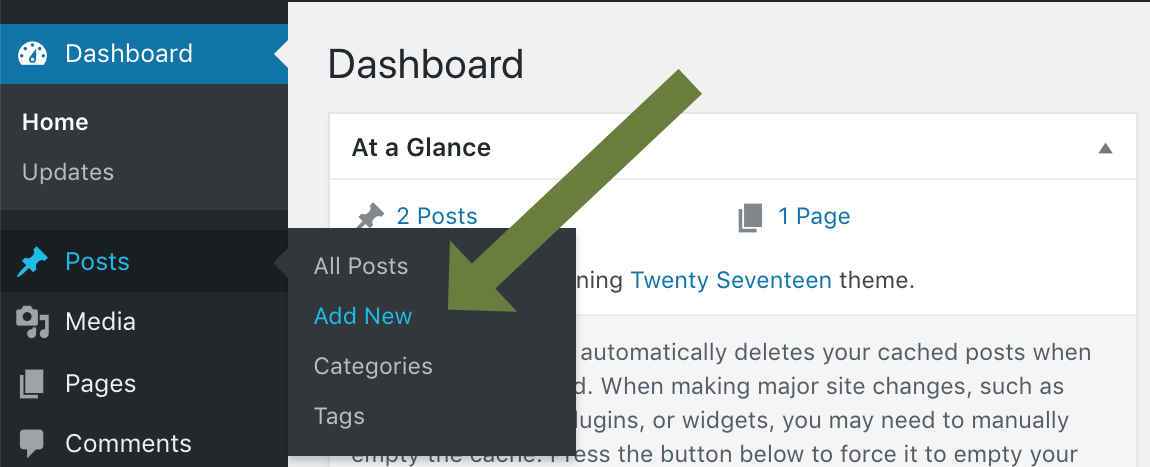 This tutorial will assume you are utilizing Wordpress 5+ with the Gutenberg enabled. If Gutenberg is disabled, our classic form editor will be present instead of the block interface, however, the fields are all the same and publishing will work the same way between Wordpress and Libsyn.
Creating a podcast episode in Wordpress is just like creating any other post in Wordpress. Starting by going under Posts --> Add New.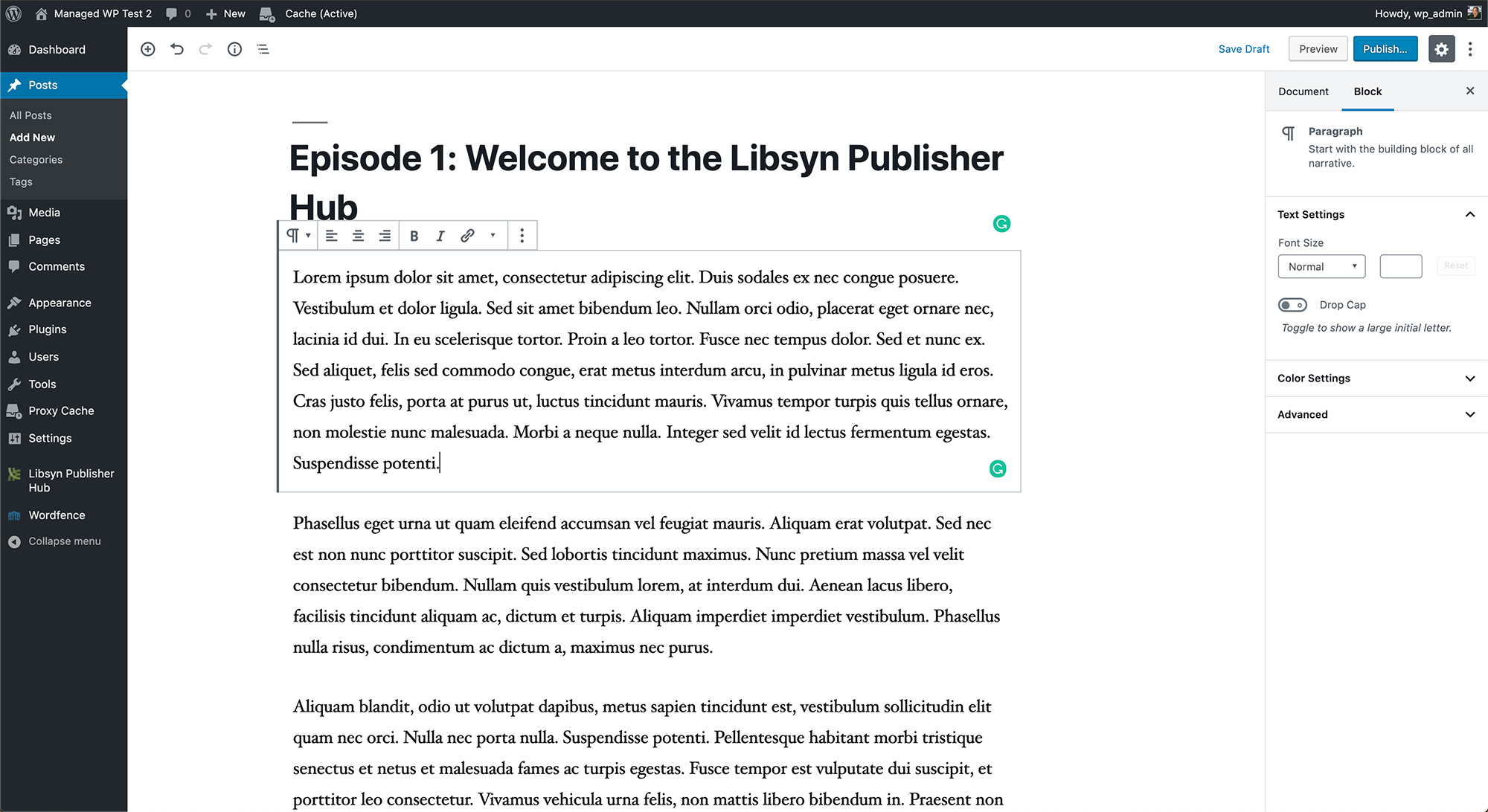 Provide your post with a title and blog content, setup any post features (such as featured images, tags, categories, etc) that you would normally configure. Then create space in your blog content to enter a new block.
Creating Your Podcast Episode
Select to add a new block and locate the Libsyn block in the list.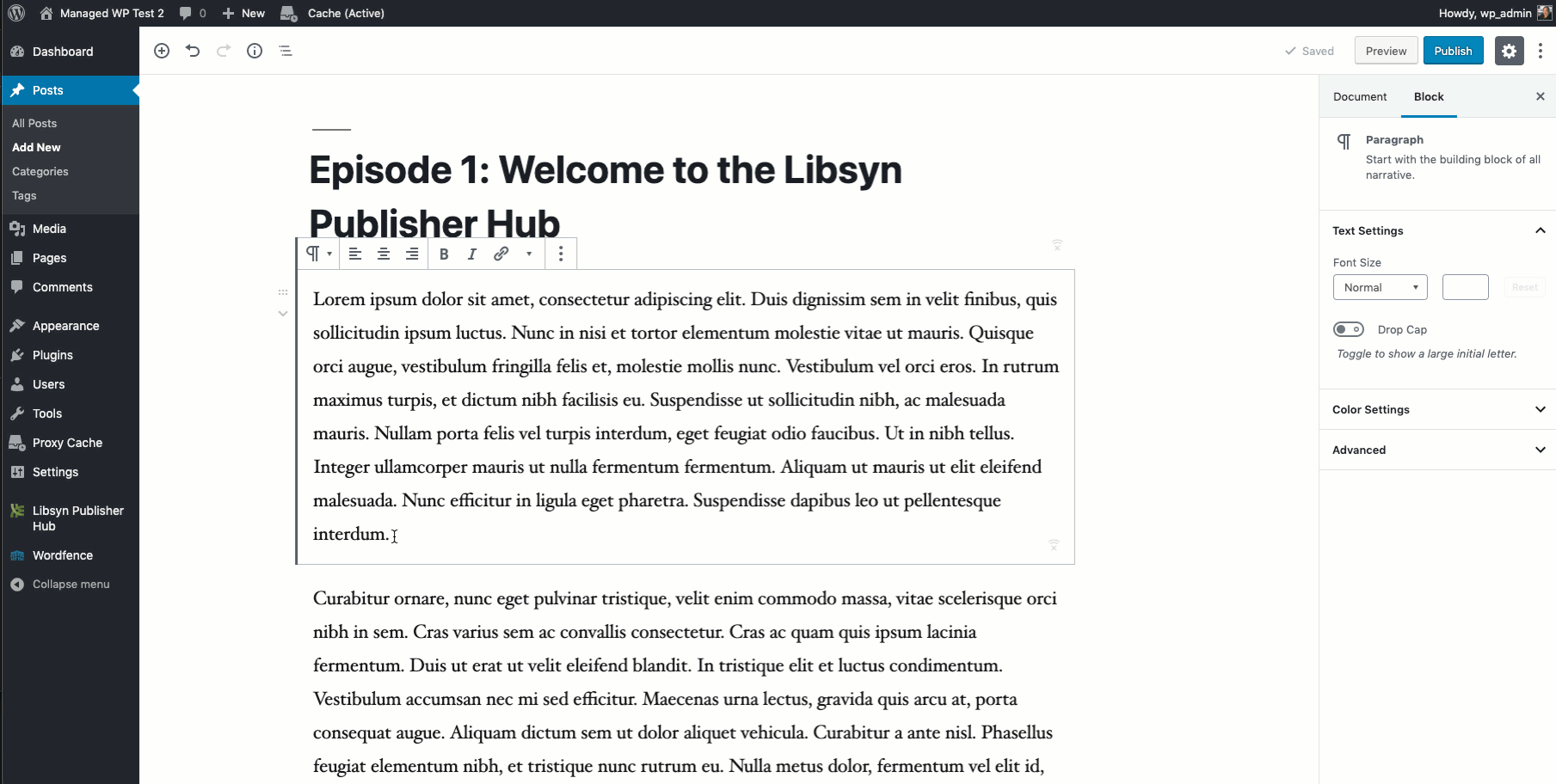 With the block added and selected, the options for creating an episode will appear on the right-hand side. Open each section to compose the episode. Details behind each option are detailed below.
Player Settings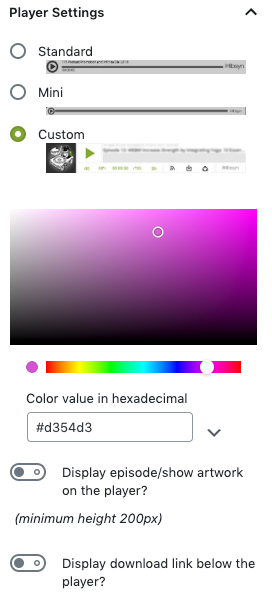 The player settings found in the block editor allows you to setup specific player configurations for just this episode.
You've already set your player settings for the whole site, but if you want to customize the player for just this episode, you can do so here.
If the episode has already been published, editing the post and changing some of the settings for the player will update the player in the post on save.
Uploading Episode Media
Choose the source you want to use in order to ingest your media. For the purposes of this tutorial, we will upload media from our local hard drive.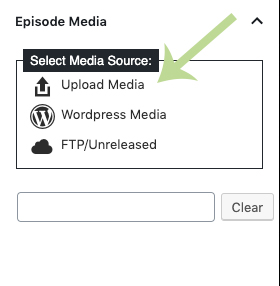 Hit the Upload button. A dialogue box will open allowing you to locate the file on your local computer or network.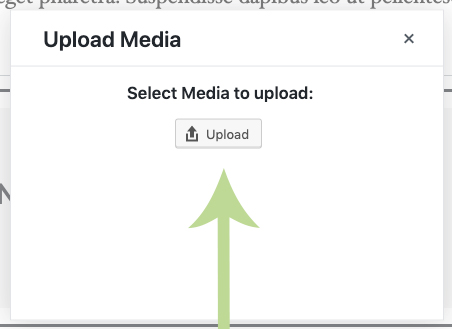 Choose the file and the file will then start to upload.
The dialogue box will show you the file name and a progress bar while the file is uploading. You may notice the upload hits 100% and sits for a few seconds up to a minute or so depending on the size of your file while the file upload processes on the Libsyn side. This is normal.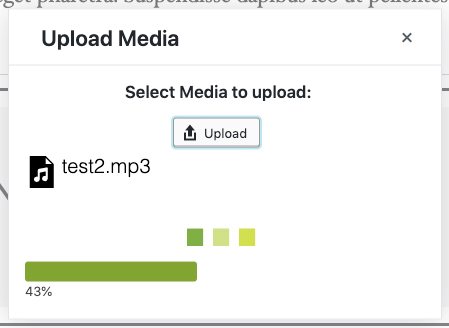 Episode Details
These episode detail fields are where you have the opportunity to define some of the other pieces of information you would often include with an episode when publishing directly inside Libsyn. This includes a subtitle, category, and keywords.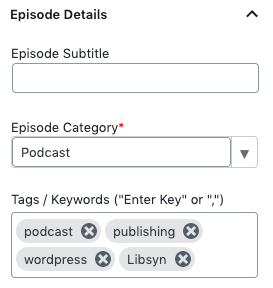 Episode Subtitle
The subtitle can appear as a 'description' for the episode in the Apple Podcasts store (and other podcast directories). This is not a required field. If this is not filled out, our system will automatically enter a truncated portion of your episode description for you.
Episode Category
This does not affect the category the show is assigned to inside Apple Podcasts or any other directory. It also does not affect the category the episode is placed in on your Wordpress site. This is the category that is used inside Libsyn for the Podcast Page and the Playlist Player. More details on categories can be found by clicking here.
Tags / Keywords
These keywords are particularly useful if you are using Libsyn to distribute your media to YouTube. These tags will be sent along with your title, description, and media. Note, they are currently keywords, not keyphrases. This means each tag is a single word.
Episode Thumbnail
The episode thumbnail is used in some podcast directories, and can also be used in the Libsyn HTML5 player, or in social destinations if configured. If episode artwork is not uploaded, the show artwork will be used automatically. This feature is best used when specific artwork for the episode is generated. Note that episode artwork must be square, and should follow the requirements outlined here.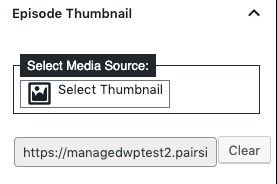 Apple Podcasts Optimization Tags
Apple Podcasts introduced some additional tags that while not required, help organize content and display inside Apple Podcasts. These fields are each detailed below.

Explicit Content
There are two places you can set your rating, at the RSS feed level and at the episode level. Episodes should be set as clean or explicit. This setting affects this specific episode.
Episode Number
Enter the episode number for your episode here. This will be displayed in the Apple Podcasts app on iOS, as well as in other third-party applications that support the Apple Podcasts Optimization Tags.
Season Number
If your episode runs on seasons, enter your season number here. If you do not run seasons, leave this blank.
Episode Type
Specify if your episode is a full episode, a trailer, or a bonus episode. A full episode is a typical episode, most episodes will be considered a full episode. A bonus episode is bonus content for your audience that isn't part of your typical publishing schedule (for example, the coverage of a special event). A trailer is a shortened promo for your show, usually 30-60 seconds, that is used to explain what your show will be about.
Apple Podcasts Summary
The Apple Podcasts Summary is a short, one or two sentence elevator pitch regarding what this episode is all about. No text formatting or HTML is permitted in this field. Note: Apple Podcasts plans to remove this field, the description will be used if the summary is not entered.
Episode Title
The Apple Podcasts Title is the title of your episode, without including any extraneous information such as episode numbers, season numbers, or show titles.
Episode Author
Just as you can at the RSS feed level, you can set an Apple Podcasts Author at the episode level. The author tag is a searchable field in Apple Podcasts, and being able to customize this at both levels can allow you to set an overall author, as well as different authors at the episode level where applicable.
Advanced Scheduling

Hit Customize Scheduling & Release to open up a modal.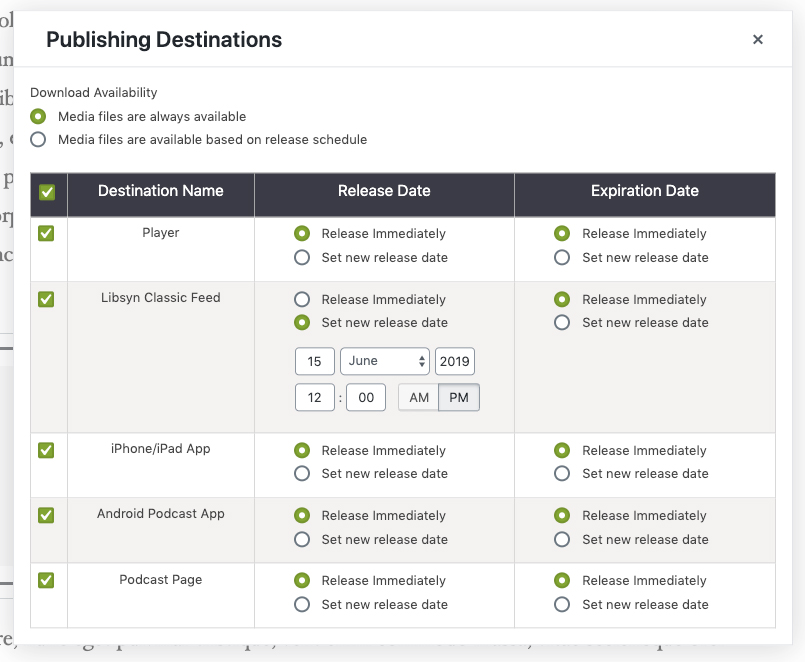 In the above table, unchecking any destination turns that destination off for this episode (meaning, this episode will not release to that destination).
The date and time to release can be set for every single destination.
The date and time to expire can also be set for every single destination. An expired episode still exists on your account but is simply no longer public at that destination.
Note: Your Wordpress set time zone AND your Libsyn set time zone should both be the same to prevent any scheduling anomalies.
Basic Scheduling
Basic scheduling utilizing the plugin is as simple as scheduling your Wordpress post. Whatever date and time is set for the Wordpress post is the date and time Libsyn will release to all destinations.
Publishing the Episode

Once you have completed your draft, hit the Publish button to publish the episode. This will release the episode both inside Wordpress, as well as to all configured Libsyn destinations according to the schedule set.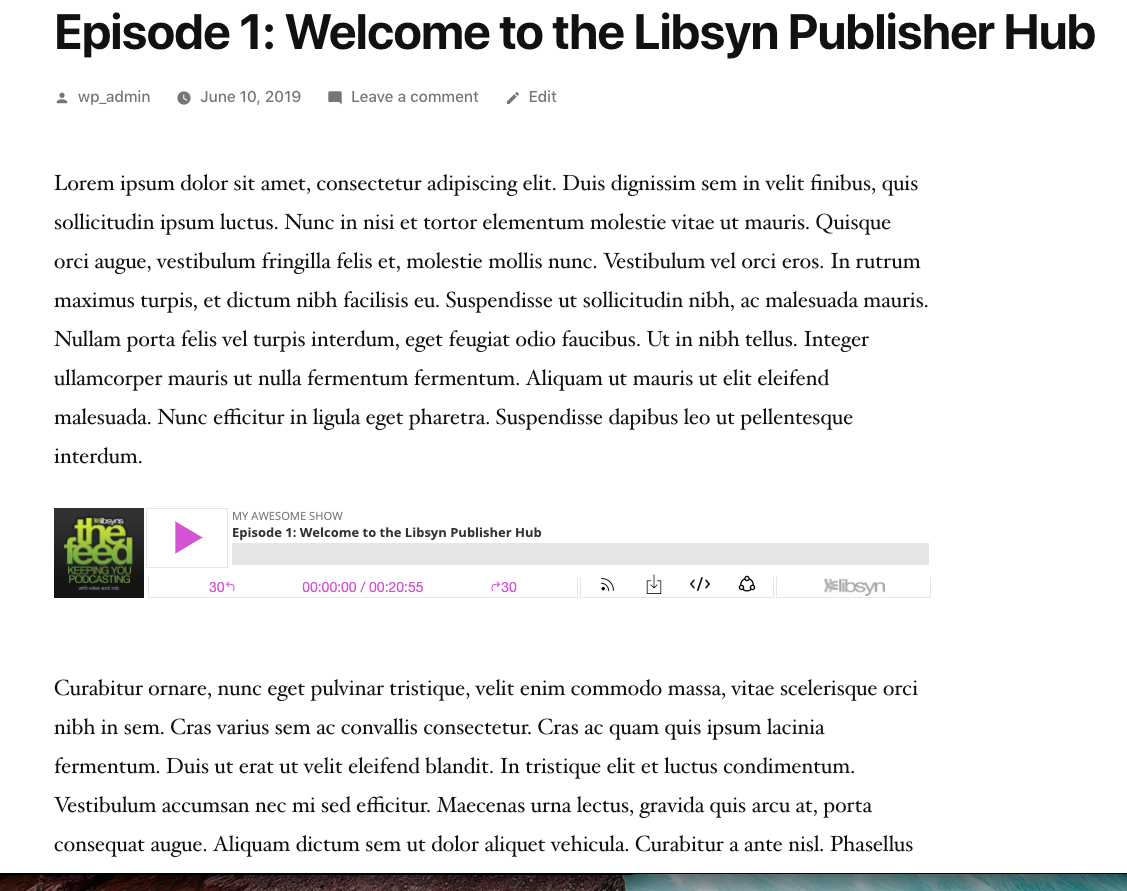 Getting Additional Help
Have questions? Contact our support staff at support@libsyn.com.