LibsynPro networks have the ability to view network level stats, including network traffic and bandwidth level data.
Bandwidth stats will allow a network administrator to review how much data was downloaded across the entire network, as well as per show.
To access your network bandwidth stats:
Click Stats > Stats Export on your main menu.


Click Network in the left-hand menu.


Click the Network Bandwidth button at the top of the page.
Selecting the Date Range
At the top of the page, you can select the time frame you want the data set to return.


Important Note: Libsyn's stats system has data going back to November 1st, 2017.
Click the Defaults button to select date ranges including:

Yesterday
Today
Last 7 Days
Last 30 Days
Last 90 Days
This Month

Click the Run button to update the charts and tables below to match that date range.


GB Per Day
The GB per Day chart will show you, based on a time frame, how many gigabytes of data gets transferred on your network.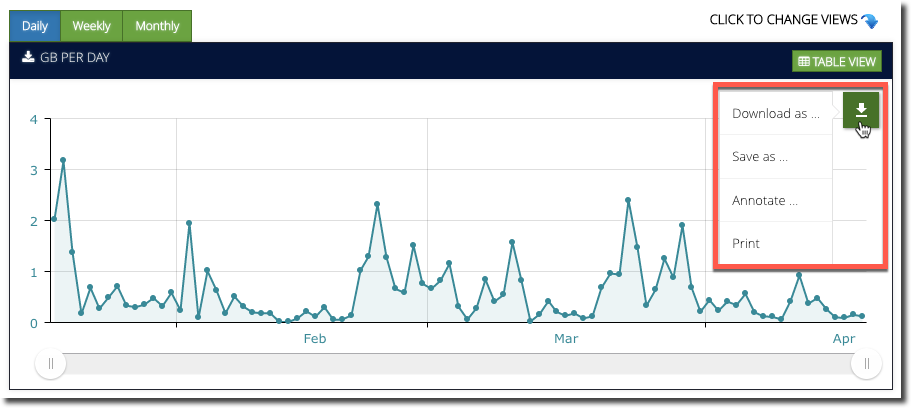 Click(or tap, if on a mobile device) on a specific day to see the transfer that occurred on that day.
The chart can be switched from a daily breakdown to a weekly or a monthly breakdown.
Click or tap on the down arrow in the upper right hand corner to access export options. The chart can be exported in a number of formats, including an annotate mode and a print mode.
Click the Table View button in the upper-right to view the data as a table. This view can also be viewed in daily, weekly, or monthly breakdowns. CSV or PDF exports are also available.

GB Per Show
The GB per Show breakdown tells you how many gigabytes are transferred for each show on your network. This table can also be exported as a CSV or PDF.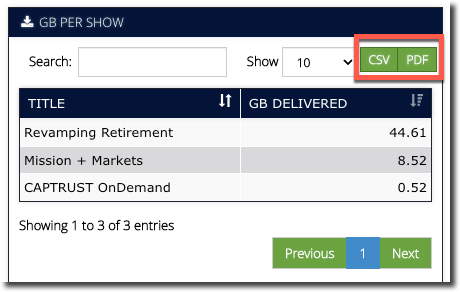 Getting Additional Help
Have questions? Contact our support staff at pro@libsynsupport.com.