With the introduction of new tags from Apple Podcasts over the summer of 2017, many shows have had a back catalog of episodes that need updated with episode numbers, season numbers, and other important details. Doing so one episode at a time is daunting.
This is where the bulk episode editor can help. The bulk editor will allow you to set Apple Podcasts titles, season numbers, episode numbers, and episode types across all your episodes quickly.
Making Your Edits
To get started, click on Content in your main menu. Next, select Apple Podcasts Tag Bulk Editor from the left hand menu.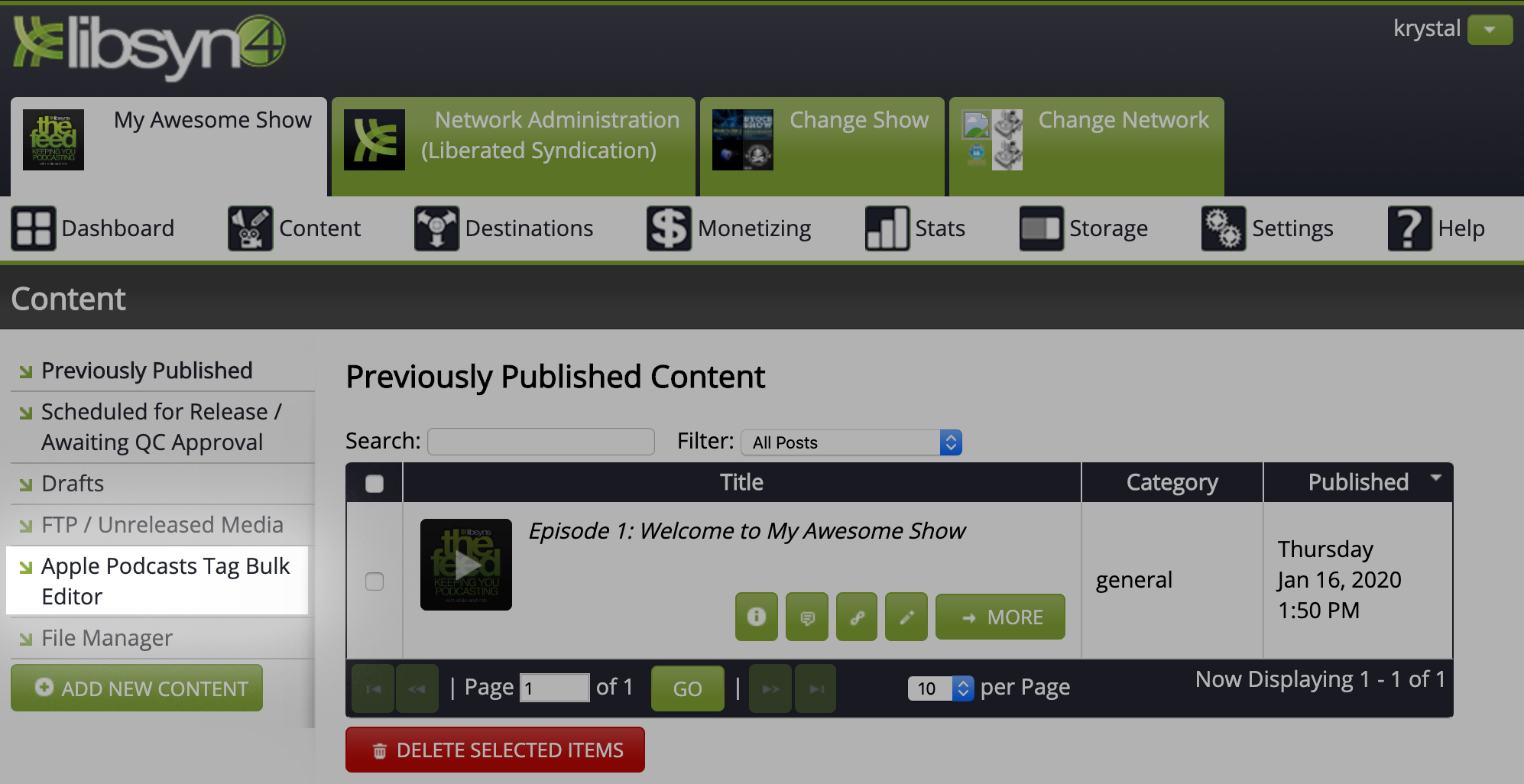 The bulk editor will open listing all the episodes on your show. One by one, you can set the episode Apple Podcasts Title, Author, Season Number, Episode Number, or Type.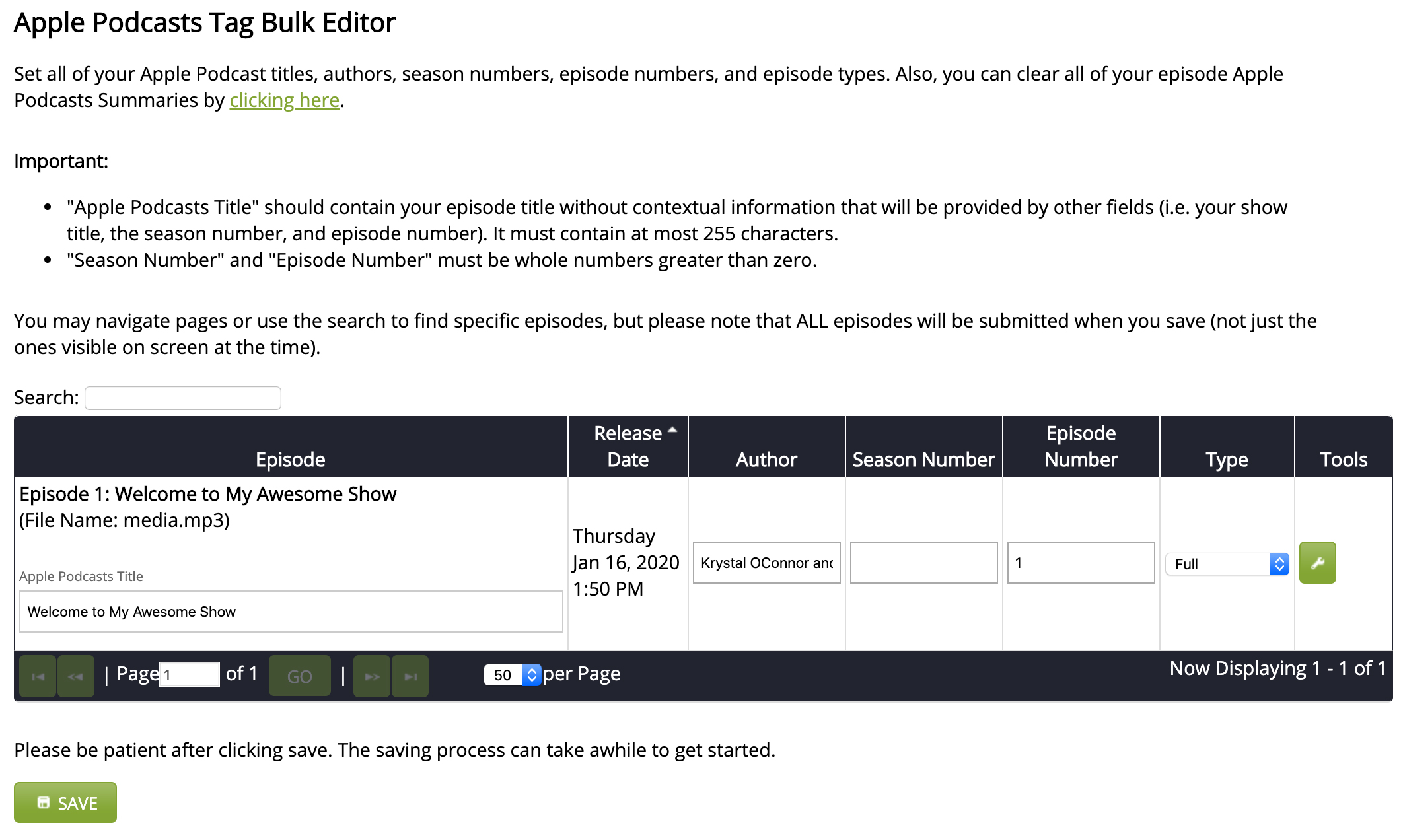 Apple Podcasts Title
The Apple Podcasts Title is the title of your episode, without including any extraneous information such as episode numbers, season numbers, or show titles. Apple Podcasts offers additional fields (shown below) for identifying season and episode numbers which they will use to order and label your episodes automatically.
Author
If you want to change, add, or remove an author, simply enter the new author details into the available text box.
Season Number
If your episode runs on seasons, enter your season number here. If you do not run seasons, leave this blank.
Episode Number
Enter the episode number for your episode in this field. This will be displayed in the iOS Podcast App, and is used along with your season number and your show type setting (under Settings – Show Settings specifying your episode as serial or episodic) to determine how your episodes are ordered and listened to.
NOTE: The Apple Podcasts title, summary, type, season and episode numbers are all part of Apple's iOS 11 release which went live in the Fall of 2017. This editor will allow you to update your past episodes with episode and season numbers automatically and in bulk to accommodate any episodes that didn't have that option prior to 2017.
Episode Type
Specify if your episode is a full episode, a trailer, or a bonus episode.
Full
A full, traditional podcast episode
Trailer
A shortened trailer or promo for your show (usually between 30-60 seconds)
Bonus
A bonus episode which is included for your listeners, but does not necessarily fall in the realm of your regular episode releases
Tools
Click the tools button for additional automated functionality.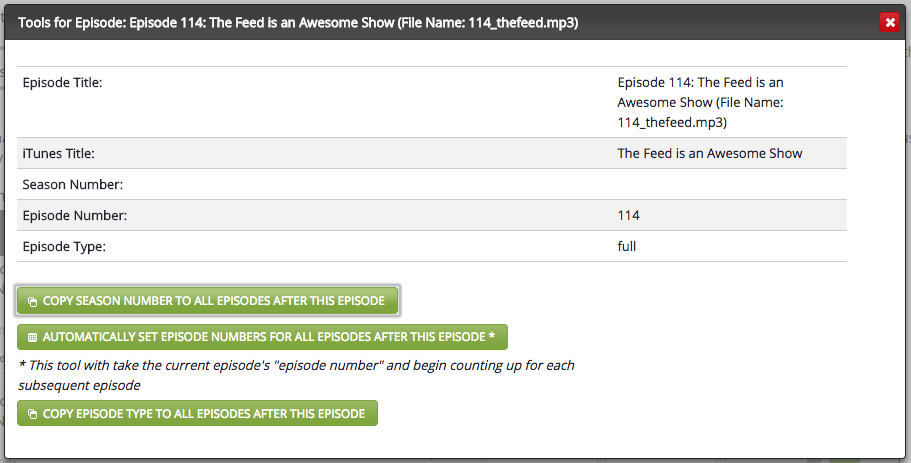 Copy Season Number To All Episodes After This Episode
Selecting this option will automatically update all episodes after this episode to match.
Automatically Set Episode Numbers For All Episodes After This Episode
This button allows you to, using the episode number of this episode, automatically increment the episode number for episodes after.
Copy Episode Type To All Episodes After This Episode
This will allow you to set a specific episode type for this episode, and all episodes after this episode will automatically be updated to match. For example, if this episode is set as 'full' for episode type, all episodes after this episode will also be set to 'full' after hitting this button.
Finishing Up
Once you are done with your changes, hit Save to save your changes.
Getting Additional Help
Have questions? Contact our support staff at support@libsyn.com.