You can manage your Spotify listing and get additional metrics in Spotify's 'Spotify for Podcasters' site. Please note a Spotify account is required to complete this process.
Before starting, if your show was submitted to Spotify through destination in our system than the url to use when claiming the show is the 'Spotify' url in the Quick Links table at the top of the Destinations page.

That url will follow this format:
https://thefeed.libsyn.com/spotify
Now you are ready to claim your show, please go to the Spotify for Podcasters site. Click 'Log In' in the top right and then either login or signup for a Spotify account.
Once logged in click the 'Get Started' button if you don't see it select the 'Add or claim podcast' button from the menu on the left and then click 'Get Started'.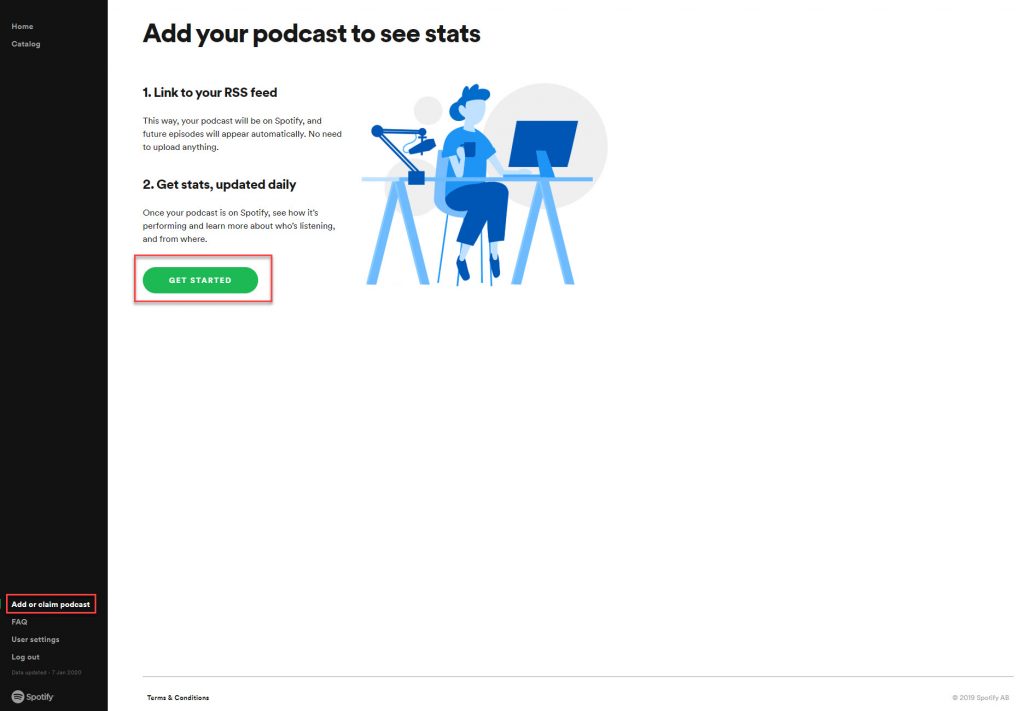 Enter the RSS feed to the show you are trying to claim and click next.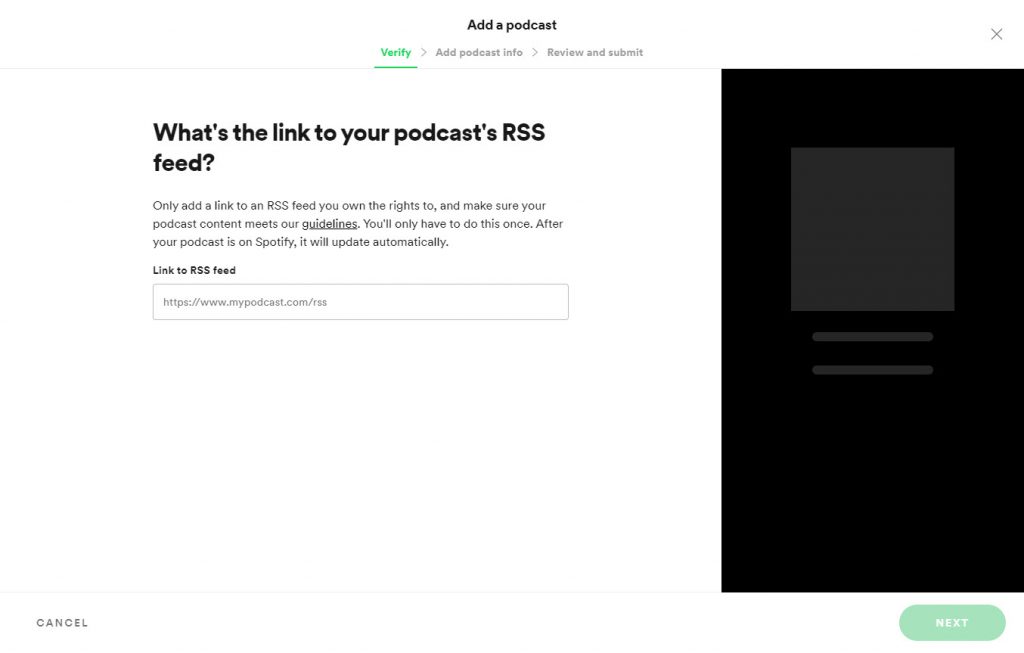 The next screen will show a message 'Is this your podcast?' with your logo there and a message saying 'If so, hit next to claim it.' Go ahead and click next.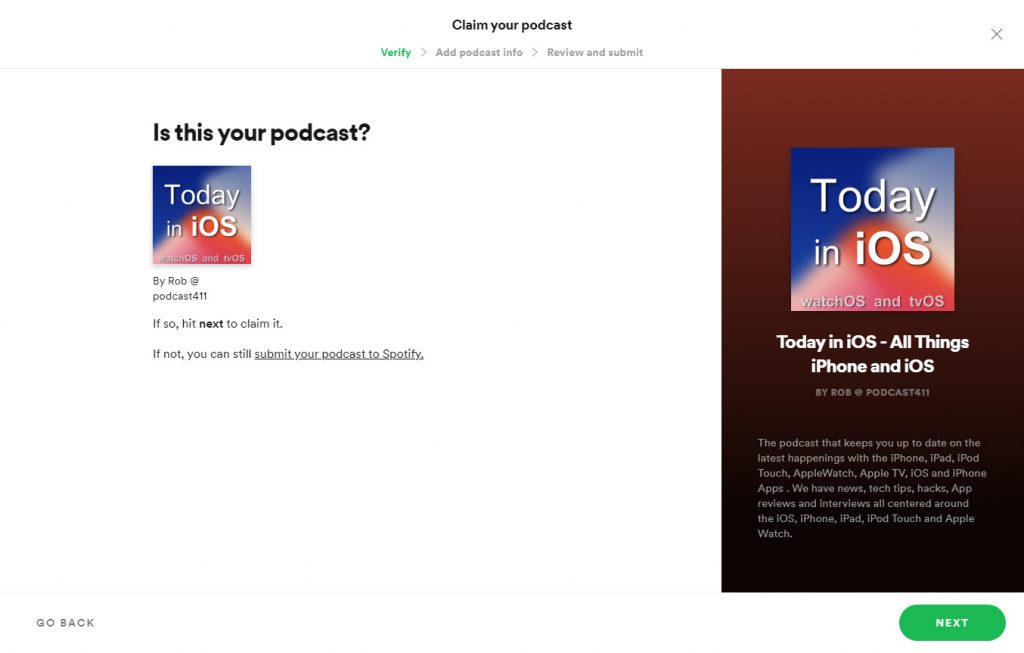 If you DO NOT see that message and your show is in Spotify, stop and reach out to our friendly support team at support@libsyn.com.
The next screen will show a portion of the email address that they detect as the owner email setup for the show. If this looks like your email click 'Send Code'. This will send a verification code to your email which you can use for the next hour.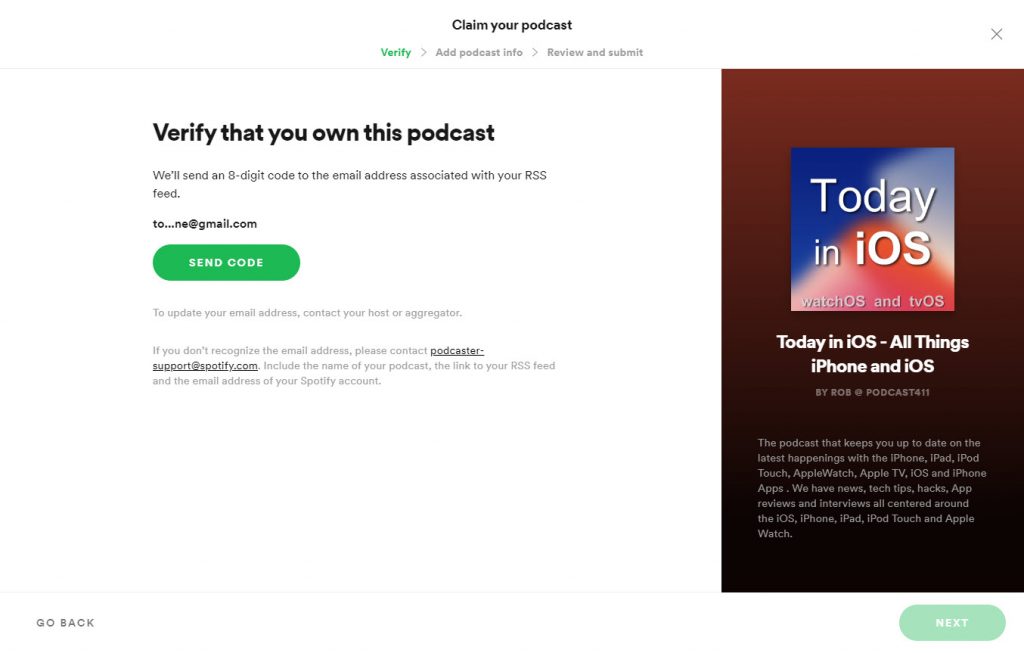 If that email does not look like yours please update the owner email you have set in your account under: Settings - Edit Show Settings. Once that's updated you'll need to restart this process.
On the next screen enter the 8 digit code you received in the email and click next.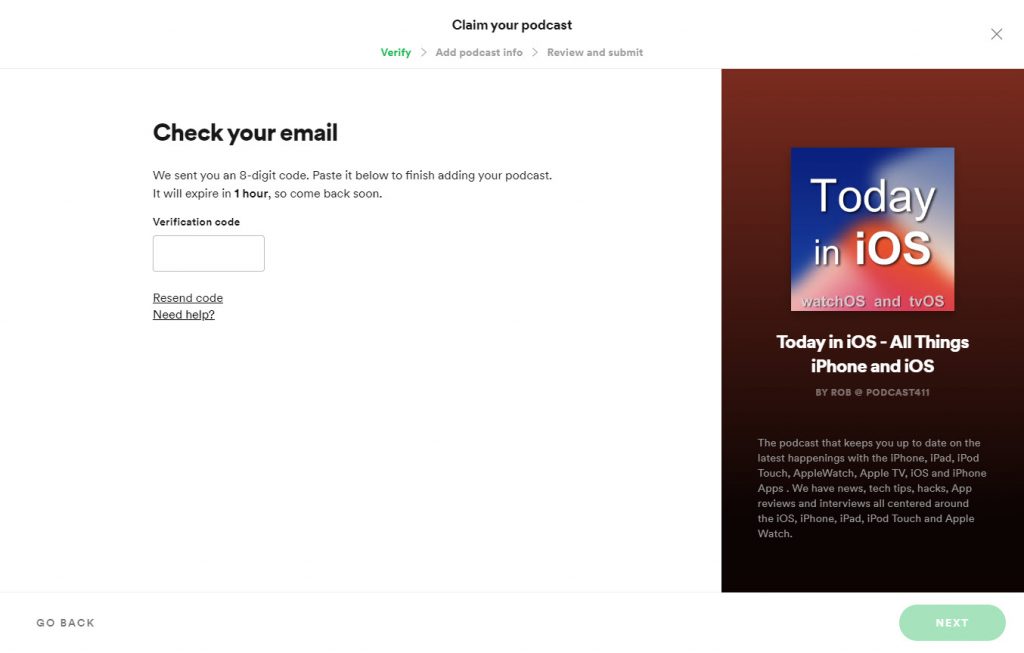 On the next screen you need to select the location of your podcast, the language and category. Upon selecting a category you'll be able to select up to 3 subcategories.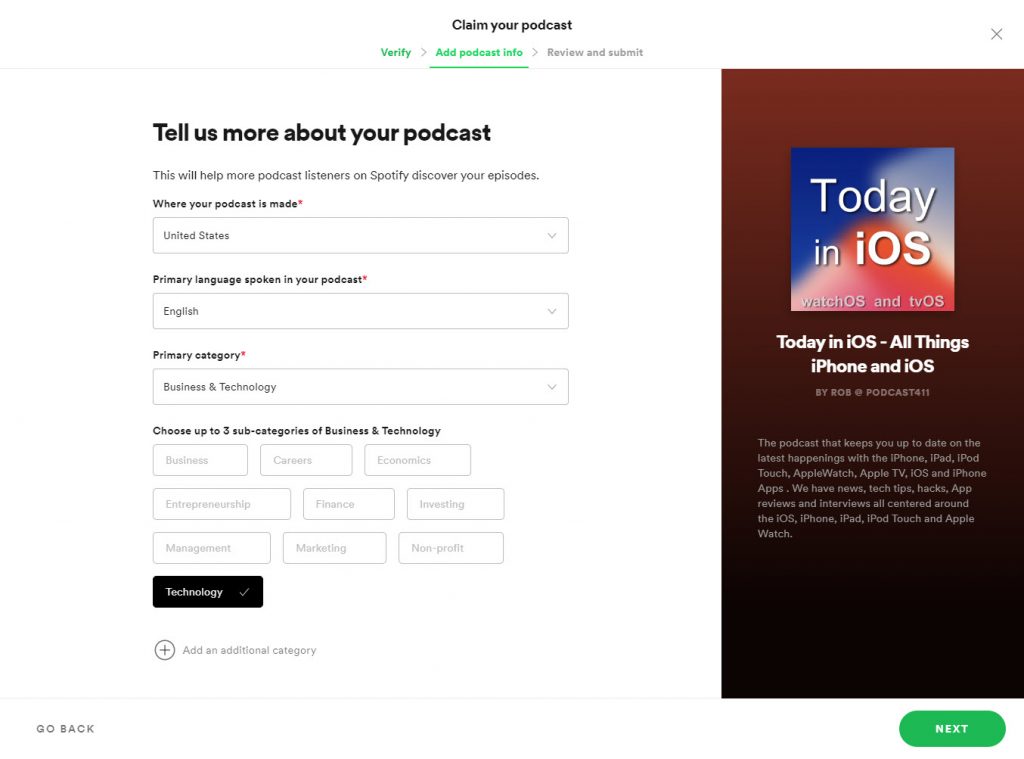 Once you are finished click next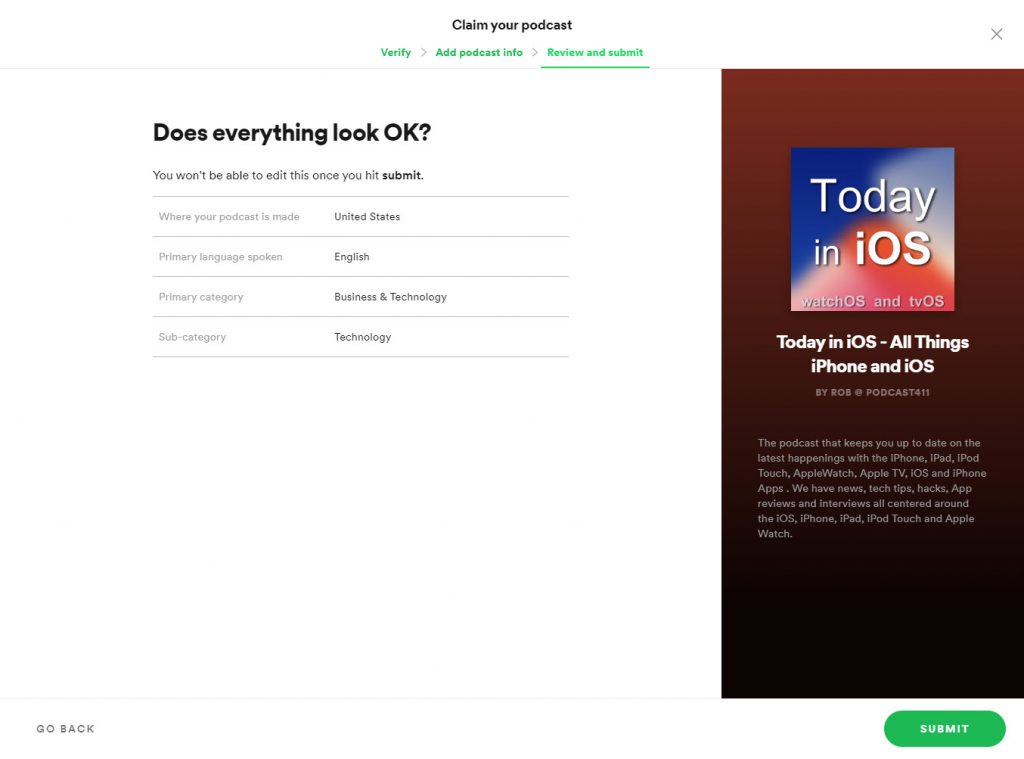 You can click 'go back' to make any changes otherwise click 'submit'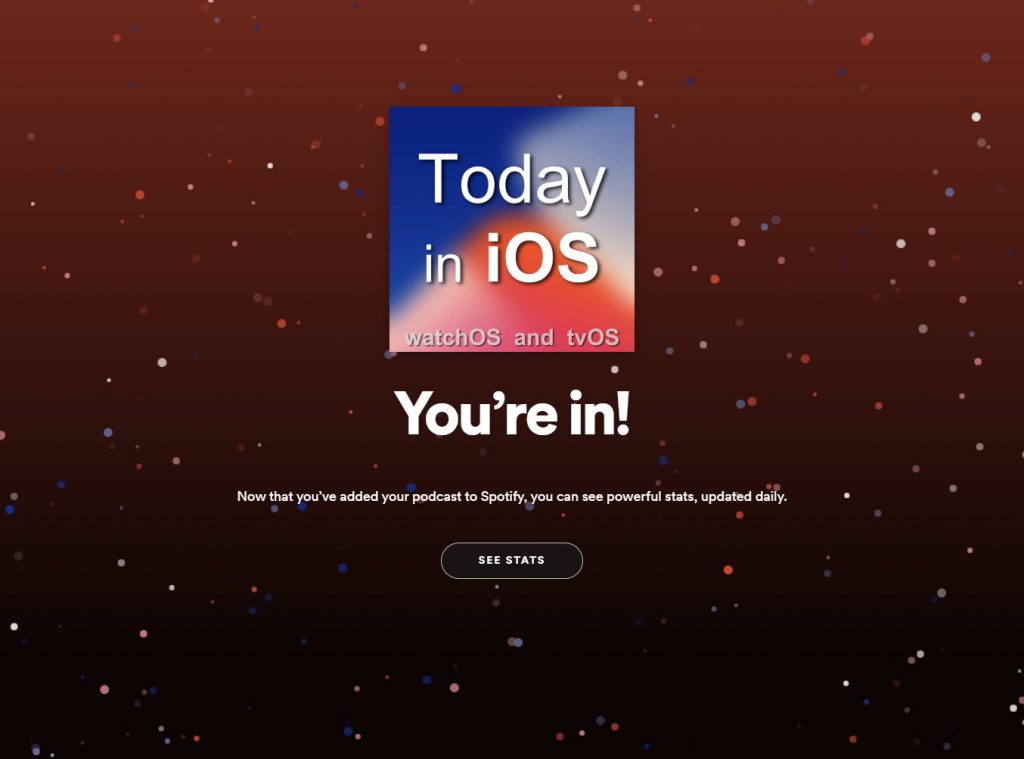 You are all done!!! You can now manage your podcast in Spotify and view the additional metrics they provide.
Getting Additional Help
Have questions? Contact our support staff at support@libsyn.com.