In early 2017, Libsyn released a brand new version of the Podcast Page. This solution provided a range of features producers have requested, including:
Better mobile responsiveness
Widgets support with a sidebar
Additional pages (About, Blog, Contact)
Even better, it's much more aesthetically pleasing than any of the prior solutions that have been offered.
For anyone who has joined Libsyn after February of 2017, this solution will be added to your show by default.
For anyone who joined Libsyn prior to February of 2017 and hasn't already migrated their old page solution to our most recent and fully supported Podcast Page, the steps below will help you migrate automatically.
Adding the New Podcast Page to Your Show
To get started, log into your Libsyn show and hover over Destinations and select Add New.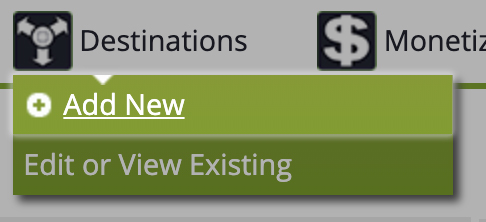 Hit Add for the New Podcast Page from the list.

Hit the Save/Continue button.
Configure the theme settings, add any pages and widgets you like, preview your page along the way and then hit Save once you have completed your configurations.
Important Note: If you have questions about the configuration or design, a full tutorial outlining each option can be found here.
Migrating to the New Podcast Page
Once you have configured your page the way you like, at the bottom of the page should be a Ready to Launch checkbox:

Check the Ready to Launch Checkbox, then hit Save to save your changes.
This next and final step will transfer your settings from your old Podcast or Webpage destination to your New Podcast Page destination.
If you have the older Podcast Page, you will see this:

Hit Confirm.
If you have the (much) older Webpage destination, you will see this:

Hit Confirm.
If you are one of the few who have both the old Webpage and old Podcast Page destination, you will see this:

In this instance, choose which old destination you want settings pulled from, then hit confirm.
This process will take several minutes depending on how much data you have. Do not change your page or move away.
To clarify, the migration will ensure any episodes that were released to your prior page are the episodes that are released to the new page (and anything that wasn't previously released to the page, still won't be released to the page). It also will ensure all of your URLs and permalinks will continue to operate.
Once done, the page will refresh and confirm the change was completed.

Getting Additional Help
Have questions? Contact our support staff at support@libsyn.com.